Book via our website
Best Rate Guarantee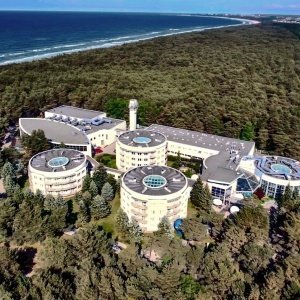 Location

Attractions

Security
Lots of attractions
at the Baltic Sea
The Senator Hotel is a splendid place to load your internal batteries whatever the season. No matter if you are a kid, a youngster or an adult, you will have a whale of a time here! And if you fancy active relaxation – look, the beach is so close, hidden in the warm embrace of the forest, there's a gym outside and a myriad of biking routes. Our Bursztynowe SPA (Amber SPA) and the sauna zone shall take care of your well-being, fighting bad weather off. Think about a family bowling tournament or a visit to our hotel cinema, why not?
Safety
of the whole family
Our Hotel has been for years now extinguished with the maximal number of points by the Family Friendly Hotel Jury. Our complex is large but thanks to a special architecture, the atmosphere here makes you feel at home and our private beach provides you with fun beyond measure, with no worries to spoil this special time.
Our staff shall be there to serve you on every single step – you don't even to have to leave the Hotel if you need something!
Swimming pool
complex
The Swimming Pool Complex of the Senator Hotel is such a kingdom of good fun! If you love water, you won't get bored here! 2 swimming pools - namely, a professional 4-lane one and a recreational pool with many attractions for children and adults, saunas, sanarium and the Jacuzzi Terrace - our newest hit - are waiting for you!
The Senator Hotel is a synonym of blissful holidays and family relaxation!
New!
External terrace
Our wooden terrace has been prepared for all of these who love relaxing in the sun. Enjoy a nice jacuzzi bath or let your hair down in the modern sauna. Or maybe check the offer of refreshing drinks and delicious desserts available at the terrace bar.
Hotel
Form
Certainly, there is no other hotel like ours, resembling this unique architecture. All the seaside hotel looks just like another. Yet, we are the ones to stand out. Our hotel consists of circles connected with each other. In this way, you can feel in this large object quite like at home, even in the high season. The whole object is perfectly marked and the communication between its single elements is smooth.
Cinema
and bowling alley
The Senator Hotel pampers all the Guests whatever the weather. Choose our 6-lane bowling alley and enjoy the emotions coming with it. Both adults and children will be impressed! Visit our bar and have a cold or warm beverage, get a drink.
Or go to our cinema hall and watch a nice movie, because... why not? High season means evening fairytales for our youngest and most precious Guests, even though adults are most welcome as well.
Children
Philosophy
The Senator Hotel is a kingdom of children, indeed. The sea so close, the beach so safe and lots of attractions to choose from... A nice stay guaranteed - for the whole family, no mistake! Don't worry, you don't need to worry about your precious treasures - all the attractions provided for them on the premises of our complex are safe. Our animators are there for you to take care of your children when you indulge in the wellness pleasures to the full.
Diving
courses
The Diving Academy Deep Blue will show you the fascinating underwater world during our unique lessons. Both the beginners and the advanced divers will be content! If it sounds like something you would like to try out, go ahead!
Pet Friendly
Hotel
Don' hesitate to visit the Senator Hotel in Dźwirzyno together with your four-leg family members. Every pet will feel comfortable and safe here.
Our Guests'
Reviews
Zima nad morzem najlepszy wybór.
Kochamy z dziećmy spędzać czas. Dlatego czasami pakujmy nasze mniejsze walizki i zabieramy dzieciaki nad morze. Spędzamy na takim mini urlopie czas ze sobą nie koło siebie. Pierwszy raz nad morze w zimę wyjechaliśmy, kiedy byłam w ciąży z drugim dzieckiem. Relaks, relaks, cisza, las i morze.
9
Wanting to come back again...
The location is the top factor of this marvellous hotel! But our delicious breakfast and the large swimming pool are great, too! The beach with hotel deck chairs and sunshades looks nice. This year the beach was more stone than stand one, but children loved it!
10
Booking.com
A truly relaxing stay!
Such a friendly team they've got here! So helpful! The breakfast was rich and diverse, always fresh! The location resembles a fairytale, far away from the hustle and bustle of big holiday resorts.
9,2
Booking.com
You are a much-awaited GUEST in this hotel :)
What a splendid place, indeed! If yu are welcomed by a staff member right at the entrance to the hotel and guided to your parking lot, you feel like a star! This peace like in the paradise, the staff so discrete... The food was delicious and all of our wishes had been fulfilled before we could make them. And if you come to the organery late in the evening and you're the only guest, you are waited upon like a king, even if you order just an apple pie with ice cream :) My husband and I were celebrating birthday, we were alone in the cafe, but surely we will come back with our children. We would ...
10
Booking.com
Great!
The food was delicious, really! Top quality, clean, nice staff!
9,6
Booking.com
Marvellous place right at the sea
[...] Nice, neat and quite spacious rooms with balconies. SOOO CLEAN!! Both in the rooms and in the swimming pool zone. The cinema, jungle gym inside and an interesting playground are a nice alternative for nasty weather. Children are never bored. The ladies taking care of the playroom organize lots of pleasant activities for kids, both in the hotel and on the beach.
9,2
Booking.com
One of the best SPA & Wellness Zones in Poland!!!
The hotel is located in the heart of a pine forest, close to the beach. It's a formidable solution for those who long for a true regeneration. To my mind, especially the spa&wellness section is really worth the attention. The SPA is great. The staff is nice, the list of treatments to choose from couldn't be richer (including massages, nail polish for girls etc.). Many sauna options (dry and milder, dry and hot, steam bath). A splendid pool - with a relaxation zone where one can find water jets, professional swimming tracks, a paddling pool, a few jacuzzis. So, everyone will feel content. And ...
Tripadvisor
Check the availability
Date guarantee
Book via our website to get the best price!